People are frequently asking how to make a deposit?
Here we took some pictures for you to make everything clear!
There are 3 paying methods that we offer: VGO skins, G2A payment and Gift Cards. In this article you will find the instructions for each of these methods.
Deposit by G2A payment:
1) Click to choose deposit by G2A payment;
2) Enter the sum of money you want to deposit;
4) Insert your information in the fields and make sure to agree with the other requirements (additional information: promo code).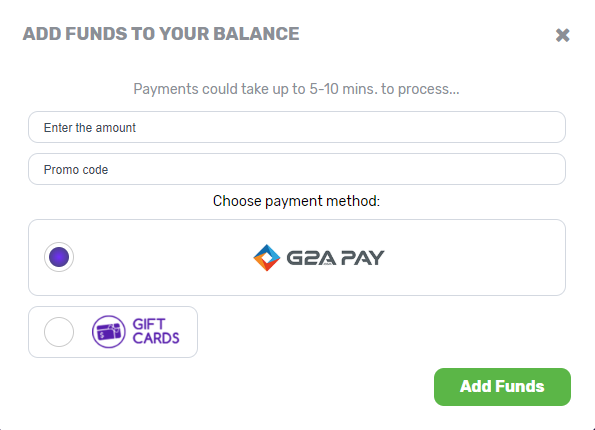 Deposit by Gift Cards:
1) Choose a Gift Card (You can find it here: DrakeMoon Gift Cards);
2) Pay with the most suitable method for you - choose between PaySafe Card and PayPal;
3) Choose "Gift Cards" as a paying method and insert your Gift Card code.
Deposit by VGO skins
1) From the 'Deposit' section, select 'VGO' in the drop-down menu. Add your Opskins trade URL in the 'Change Your Trade URL' section and click Continue.
2) After your trade URL is linked, you will be able to see your VGO skins inventory, where you can select the skins which you prefer to deposit to the site in order to top up your balance. 
3) Select your preferred items, click on 'Add funds' and finish this transaction. 
If you still have questions, you can always contact our Support Team for additional information - https://www.drakemoon.com/support